The moon bag




shows life as a natural cycle...
Everyday situations in clinics and hospitals are the birth and death of a human being. While the birth is celebrated as a joyous event, death is encountered with helplessness. In dealing with the life situation of "death" in our culture, it leads to the common practice in hospitals that the clothes, valuables and souvenirs of a deceased are handed over to the relatives in anonymous blue / green or white plastic bags - often perceived as garbage bags. This fact is

contrasted with the project "The moon bag": Starting from the consideration of birth and death as a life cycle. Raoul Marek developed in 2006  this bi-colour carrier bag. The relatives receive instead of the usual anonymous plastic bag, the moon bag - filled with the personal souvenirs, valuables and clothes of the deceased. So it is possible to experience this living situation ethically and respectfully at the hospital. Of great importance is the religious,

educational and cross-cultural design of the paper bag. The moon bag was presented to hospitals in Switzerland, Austria, Germany and France. Fifteen hospitals in Germany have been implementing the project since 2006, a.o.The University Hospital Hamburg-Eppendorf, the Ev.Waldkrankenhaus Berlin-Spandau, the Ev. Hospitals Mülheim /Oberhausen and Dominikus Hospitals Berlin/Düsseldorf.
"I have received the moon bag last October in the hospital
when my father died unfortunately.
I was touched that my hospital is so respectful. Thanks for
the great idea. "
S. M. Chemnitz
"We were amazed when we received the
beautiful paper bag with the last belongings
of our deceased brother. It was a nice
gesture of the hospital. Thank you and I will
gladly come back if necessary, but I do not
hope so..." 
K.B. Düsseldorf

Exhibition


The moon bag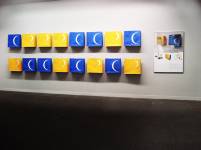 2007 Fine Arts Museum Bern, "six feet under"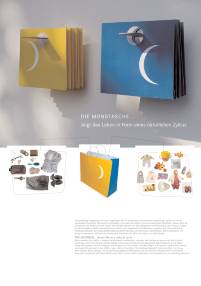 Edition The moon bag, 70 cm x 100cm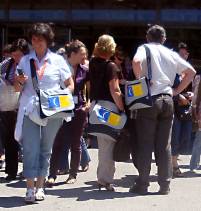 National Congress of Palliative Medicine Marseille


 Fine Arts Museum Bern, CH
German Hygiene Museum Dresden, D
Centre of contemporary Art Annemasse, F